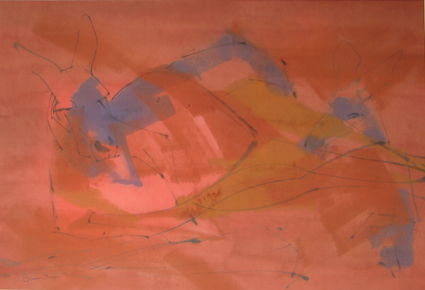 Glenys' birthplace, Cobram, is on the banks of the Murray River in Northern Victoria, Australia. Beginning life here gave her a wealth of experiences in the natural world to draw upon and fire the imagination. The tranquil wetlands were a haven for beautiful waterbirds which often feature in her paintings.
Declining a University Scholarship in the Faculty of Arts, Glenys followed a career in teaching working in the fields of special education and music. While living along the Broken and Goulburn Rivers in Victoria, Australia, her love of the arts surfaced again, and she began painting.
"Beginning as an artist in the country, although sometimes artistically isolating, usually means that one must develop one's own artistic solutions, identity and ultimately, style."
She now lives in Melbourne, Australia, and finds the interaction with other artists, and exposure to art in galleries, stimulating in accelerating the development of her art from its origins.
Her intuitive, interpretative approach developed, resulting in many national awards, an international award, and inclusion in the book "Feather & Brush – Three Centuries of Australian Bird Art", by Dr. Penny Olsen.
In 2003, Clarke Galleries, USA, invited her to exhibit in "IV Centuries of Birds in Art", an international exhibition, her work representing free expression.
In 2008 two of her paintings were chosen as finalists in "An International Exhibition of Nature in Art" at the Hiram Blauvert Art Museum, USA.
"Line is my main means of communication and I like to suggest, to leave something for the viewer to fill in, to wonder about - a little mystery, inviting the viewer to participate."
Glenys' medium presents many challenges, and she pushes the possibilities to the extreme. She likes to challenge the accepted view of wildlife art to swing between the figurative and the abstract, always with art the main objective in her interpretation.
"My inspiration comes from the sheer joy, unpredictability and excitement of combining handmade paper, water, thick juicy gouache paint and sensitive soft brushes. I like to interpret what I see with my own subjective vision of the subject, coloured by my feelings and memories. It is the artistic, creative process, as well as the subject matter which is my inspiration."
Highly individual, her work has been variously described as contemplative, rhythmic and adventurous.
"Those roos, full of the light and warmth of the Oz landscape….the way they are here and then not here is so evocative of the transient nature of life." Steve Morvell. Wildlife Artist.
In 2014, her painting "The Long Hot Summer" was included in the invitation exhibition "Inspiration Wild: A Narrative" which featured works celebrating the work of Australasian Nature Artists.Sofitel, Melbourne. Wildlife Art Museum of Australia.
Glenys' distinctive visions of the natural world have been exhibited in USA, Germany, Japan and China.
SELECTED AWARDS AND EXHIBITIONS:
AFC Artists for Conservation,Signature member of this worldwide Foundation
INTERNATIONAL GROUP EXHIBITIONS
2021: Invitation to exhibit in the "Barcelona International Art Fair 2021", Spain.
2020: Circle Foundation for the Arts, Lyon, France. Distinction for figurative work in C.F.A. virtual exhibition-"Art in the time of Coronavirus & Social Distancing"
2020: Represented by PAKS Galleries in Austria and Germany.
2006: Invitation Group Exhibition, Guangzhou International Art Fair, SOUTHERN CHINA, Australian Pavilion. Authorized by the National Ministry of Culture, People's Republic of China.
2003: Invitation Group Exhibition, IV Centuries of Birds in Art Exhibit, Clarke Galleries, VERMONT, & touring FLORIDA, & NEW YORK CITY, USA, Glenys' work representing free expression.
2002: Invitation Group Exhibition, Fathom Wildlife Conservation, International Art Expo, NEW YORK
2000: Selected for Faber-Castell Australian Wildlife Exhibition, STEIN, GERMANY.
1986: Selected Shared Exhibition, Goshen Shi School of Japanese Painting, FUKUI CITY, JAPAN
INTERNATIONAL COMPETITIONS
2008: Finalist for The Waterhouse Natural History Art Prize, South Australian Museum, AUSTRALIA
2008: Finalist International Exhibition of Nature in Art, Hiram Blauvelt Art Museum, USA
2007: Finalist Corangamarah Art Prize Con.ceit' 07 AUSTRALIA
2005: Finalist for The Waterhouse Natural History Art Prize, South Australian Museum. Highly Commended. Included in the awarded works for exhibiting at the National Archives, CANBERRA, AUSTRALIA
1999: Best Gouache, Inaugural International Wildlife Exhibition, BRISBANE, AUSTRALIA
PUBLICATIONS
2014: "Inspiration Wild. Historical Perspectives & Future Challenges." By Anita Pisch BA(Hons)UNSW, MCDArtDes(COFA). Foreword by Professor Sasha Grishin AM, FAHA. Wildlife Art Museum of Australia.
2014: "Inspiration Wild. An Artistic Celebration of Nature and Environment." A selection of internationally recognised artists from Australasia, their essays and works. Wildlife Art Museum of Australia.
2012: Natural History Illustration Thesis , Lorraine Robertson
2006: Permission given for printing a painting in the journal "World Literature Today", January 2006 issue, published by the University of Oklahoma, USA
2000: Published in "Feather & Brush" Three Centuries of Australian Bird Art, by Dr Penny Olsen. One of 35 contemporary artists represented
COLLECTIONS
2003: Japanese Acquisition for Sister City in VICTORIA, AUSTRALIA
2003: Toyota Acquisition, Altona Head Office, AUSTRALIA
Represented in Private collections worldwide
NATIONAL AWARDS
2006: Bronze Medal Award, Wildlife Art Society of Australasia Finalists Exhibition MELBOURNE
2003: Gold Medal Award, Wildlife Art Society of Australasia Exhibition, MELBOURNE, AUSTRALIA
1999 & 2000 : Micador Award for Best Watercolour, Wildlife Art Society of Australasia Annual Exhibition, MELBOURNE, AUSTRALIA
1998: The Inner Eye Award for Innovative and Imaginative work, Wildlife Art Society of Australasia Exhibition, MELBOURNE, AUSTRALIA
1991: The Micador Award (oils), Wildlife Art Society of Australasia Exhibition, MELBOURNE, AUSTRALIA
1986: The Geoff Douglas Award (watercolour), Wildlife Art Society of Australasia Exhibition, MELBOURNE, AUSTRALIA
1983: The Hutchinson Award for Drawing, Wildlife Art Society of Australasia Exhibition, Melbourne, Australia
EXHIBITIONS
2018: Invitation Shared Exhibition, Wildlife Art Museum of Australia, Wingeel, Victoria
2014: Invitation Shared Exhibition, Wildlife Art Museum of Australia, Melbourne.
2009: Solo Exhibition, Au natural, Drawing the Nude, The Convent Gallery, DAYLESFORD,AUSTRALIA
2003 to 2010: An exhibiting core artist at Makers Mark, Collins Street, MELBOURNE, AUSTRALIA
2001: Solo Exhibition, Art Affairs Gallery, CARLTON, MELBOURNE, AUSTRALIA
2002: Solo Exhibition, Art Affairs Gallery, CARLTON, MELBOURNE, AUSTRALIA
1996, 98 & 99: Shared Exhibitions, with sculptor Donald Glue, Art Affairs Gallery,
CARLTON, MELBOURNE, AUSTRALIA
1985: Solo Exhibition, The Windmill Gallery and Glen Pottery, Rutherglen, Australia